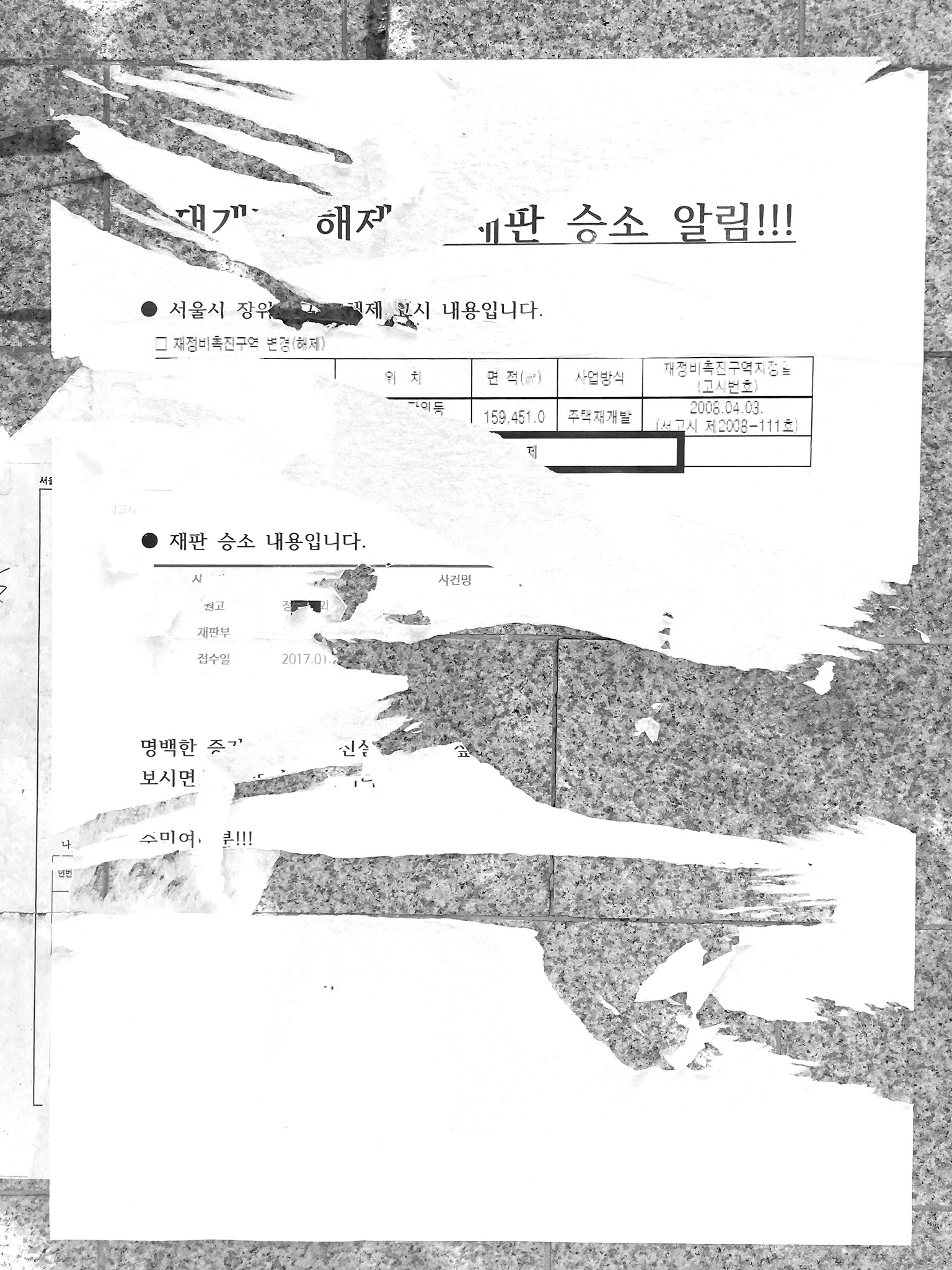 Floating Jangwi


Photo series | 2017
Collaboration with Koun Baak and Missing Room
Funded by Seoul Design Foundation

Link to official website :

http://floating-jangwi.com/

(website designed by Koun Baak)

48 selected photos were exhibited at :

Exhibition <Floating Jangwi> at Missing Room, Seoul, Korea, September 2017

-

The nautical flags that the marine ships carry, are used to express their current state or to ask questions to know the state of another. Sunjoo and Koun went through the village of Jangwi and put flags on to spots with stories, and documented the scene with photography.
Jangwi-dong is a place under redevelopment. South Korea's new town developments that started and actively promoted from the early 2000s, have torn down various old villages in Seoul and gave ground to high rise apartments.

The scheme was promising in the beginning when there was a huge real estate boom. The locals of redevelopment areas were as well hopeful of the opportunity of new and better housing. However this dream began to fall apart not long after. The old residents whose houses were expected to be demolished were not getting enough benefits to continue their safe living. Their old property value was not enough to pay off the newly built apartment, therefore they would forcibly leave their home ground to find another similar housing, in another undeveloped area. This was just one of the many problems the scheme faced, nevertheless this was the biggest problem that never was well solved during the last 15 years of major redevelopments, and furthermore threatened the local people's state of living considerbly.

Jangwi-dong is an area still captured in one of the biggest new town projects within Seoul. A part of Jangwi has gone through the last stages and the new buildings are standing strong, one part still under construction, one part preparing for demolition, and the other part has been permanently cancelled of redevelopment plans recently. In Jangwi, everything is therefore temporary. Once a land that hosted live markets and local lives has been evacuated and the walles are sprayed "demolition".

When visiting the area, it was hard to believe the brutality within such quiet and calm atmosphere. How much the media covers of the visual reality in streets under redevelopment is a tip of the iceberg. We could stroll along the alleys and houses where the norm and hints of demolition are entangled together.

The whole area felt like a vast ocean, ever changing, never safe, no directions. And the people here were like small boats floating by on this ocean. This triggered our photoseries 'Floating Jangwi.' Koun is a storyteller and creative researcher working in Jangwi who could point out the places with stories. We went around this village and put a flag or combination of flags that deliver specific messsage, and made a photo for each spot.

In September 2017, we made an exhibition at Missing Room, where we could invite people in to not just see the photos but also to share opinion on the issues.

-
Photos of the exhibition <Floating Jangwi>